INTRODUCTION TO METATRADER 4 (MT4)
What is MetaTrader 4?
MetaTrader 4 is the most popular trading platform in trading Forex. This platform is used to analyze market charts, Expert Advisors integration, and the most important part, this is the platform that we used when we buy and sell currencies.
MT4 is widely used by traders around the globe. It offers opportunities to skilled and beginner traders to apply their knowledge in technical analysis, In addition, MT4 is also known from being handy since it can be installed on Mobiles, Tablets, Desktop and can be accessed also by the web browser.
How to gain access on MT4?
1. In order to use MT4, first, you must find a Forex Broker that supports the MetaTrader4 Platform. You can browse here for a reliable Forex Broker that uses MT4.
2. Second, you must create a trading account with the Forex Broker of your choice. This is where your Broker will email you your trading account together with your trading server that you will use in Login in MT4. Don't know how to open a Trading Account? Click here.
3. You can now download and install MetaTrader 4 on your desktop or mobile. Download MT4 here. You can also download MT4 on your Forex Broker dashboard (recommended download to maximize your trading tools provided by your Broker). Note that MT4 downloaded from your Broker usually have a different icon.
4. Open MetaTrader 4 app on Desktop and Voila! You have now access to the market with MetaTrader 4 as your platform!
How to trade using MetaTrader 4?
First, you must learn how to navigate with MetaTrader 4, and know how to login to your Trading Account. To login on your trading account emailed to you by your Broker, follow the instructions below,
1. Click File, then Open an Account.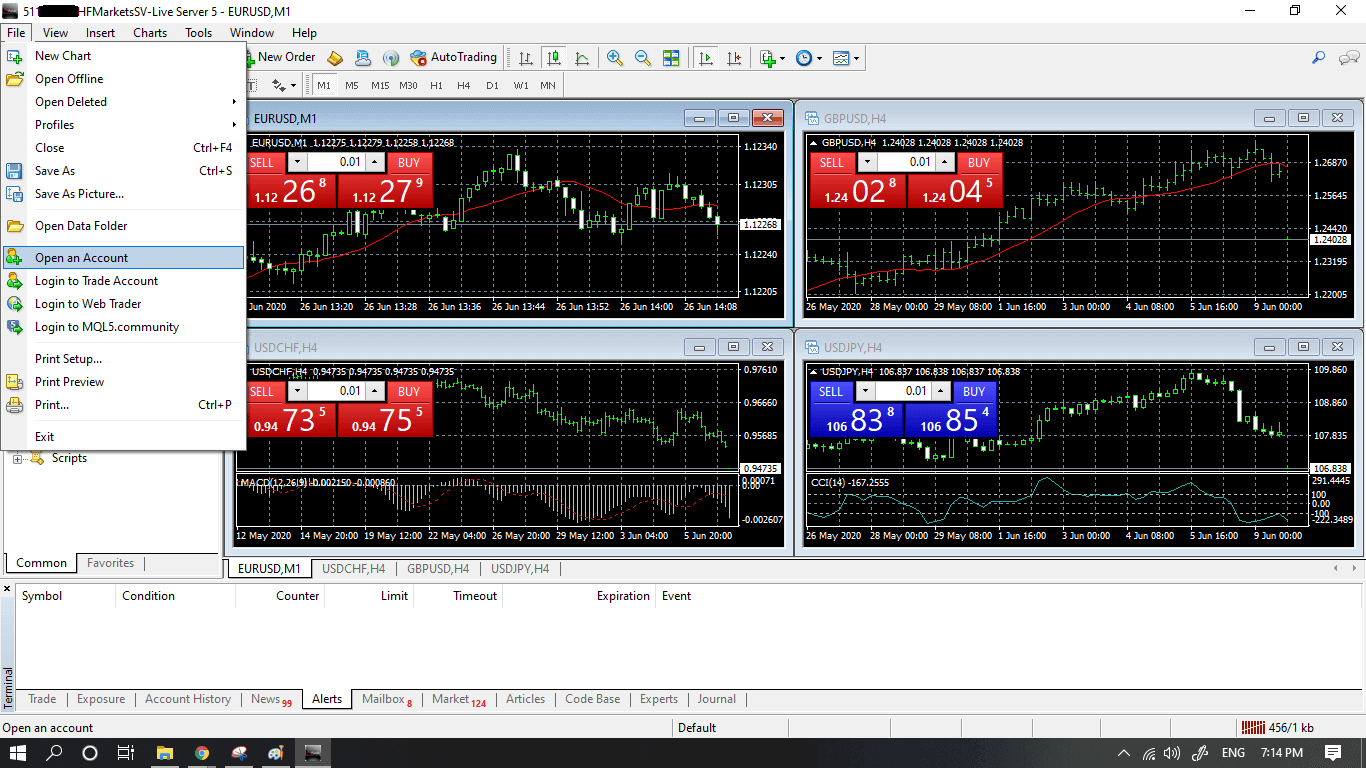 2. Find your Trading Server provided by your Broker. If not on the list, you may add a new broker server then click next.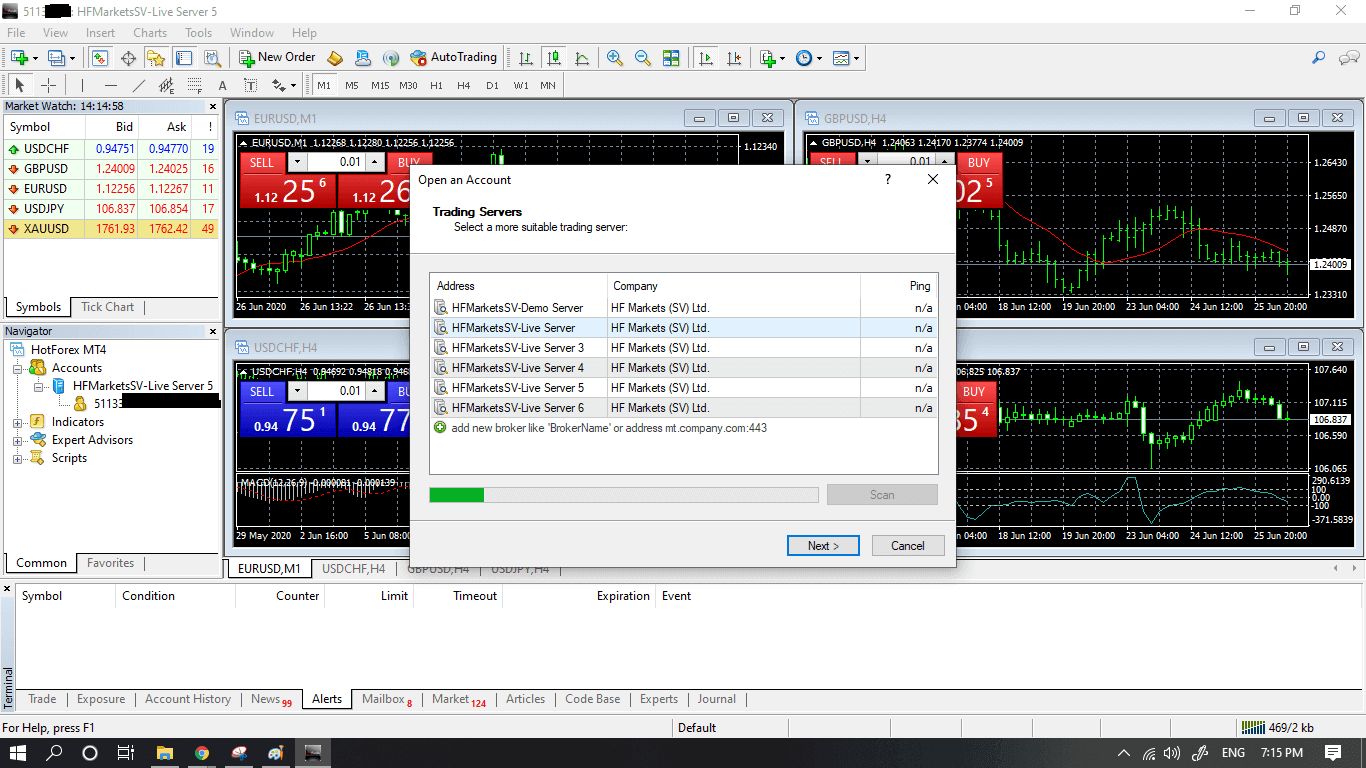 3. Choose the existing trade account, then input your Trading Account credentials emailed to you by your Broker.
4. After you Login, you may now start to trade. But before placing a trade, familiarize your trading platform first.
Red - Market Watch (upper left corner). This is where you will see the current live quotes of a currency.
Gray - Your navigator (mid-left). You can see and select here your logged trading account/s. You can also browse different indicators and Expert Advisors to integrate on your live chart.
Maroon - is your live chart window that shows the current price movement of the currencies. You can maximize the window of a single live chart to focus your trade and analysis on a single currency pair. In addition, you can customize your Live Charts according to your taste. You can change the colors, background, remove the grid, use bar chart, candlesticks, or use line chart, and many more! Just right click on your chart and click Properties.
Orange (lower part) - is your terminal window. This is where you can see your current balance, equity, margin, free margin, and margin level. You can also see here your open positions after you place a trade as well as the unrealized loss and profit from your trades.
Green - your trading tools that you can use when analyzing your charts. You can draw a line, shapes, and even apply Fibonacci retracements and many more!
Yellow - Time Frames selection. Lowest time TF is 1 minute and the maximum is Monthly TF.
Pink - is your One-Click-Trading feature, you can place a trade instantly by clicking buy or sell.
Blue (upper left) - the manual market order. This is good when placing a different type of market order aside from Instant Market Execution. You can use Limit Orders, Stop orders, etc.
Exploring Market Watch
To add a Symbol or product to trade, just right-click any of the currencies and select symbols.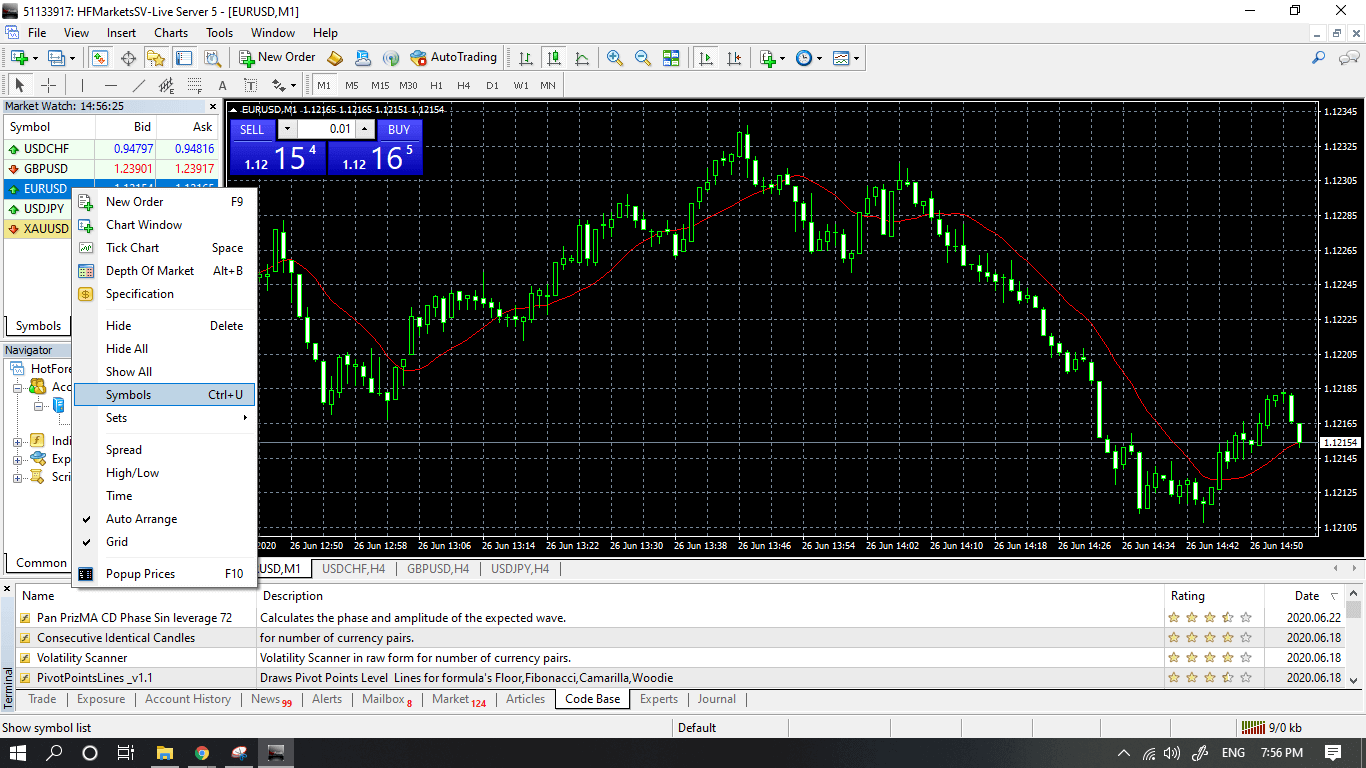 You may now select all of the products that you want to trade and click show. The number of the product that you will see will depend on your current Forex Broker.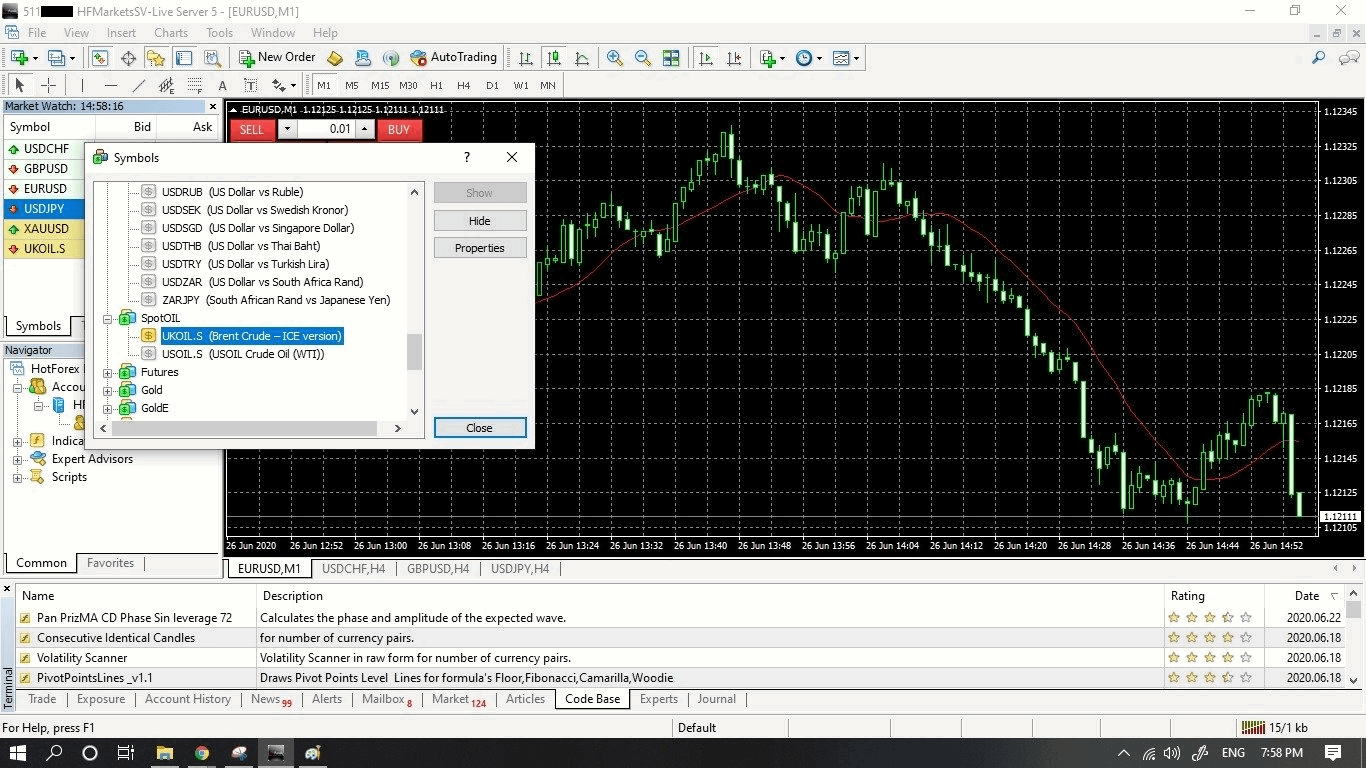 Creating a New Order
You can place an order by using the One-Click-Trading feature of MetaTrader 4 for the instant execution of buy and sell.

But if you want to place a pending order, you have to click the New Order button on the menu.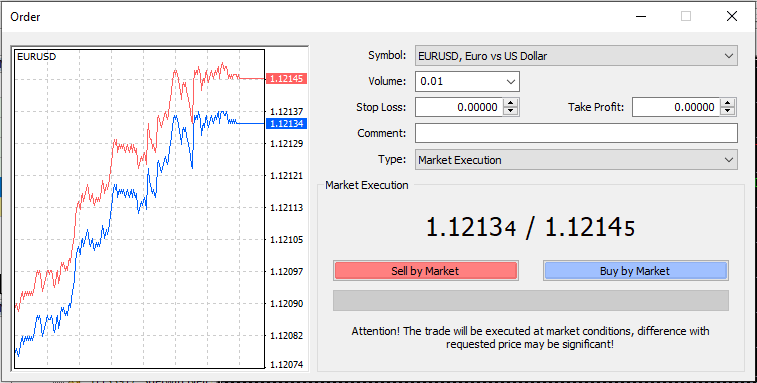 Select the type of execution in to Pending Order. (Study different types of Market Order here!)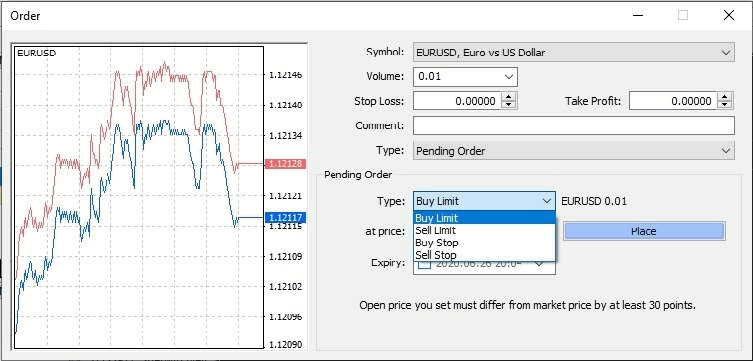 After you place a trade, you can drag your placed order up and down to place your stop loss and take profit order. You can also observe how much money you can gain and loss on your trade by pointing out your cursor to the TP and SL line.

In addition, you may also modify your order on the terminal window. You can manually place your stop loss, and take profit price, even your pending limit price.

Trading Tips for Beginners
1. Always use stop loss!
2. Observe carefully your lot size. Some first-timers with small account place a trade immediately without noticing the lot size set to 1 standard lot. You can start on placing a trade with 0.01 lot until you become a skilled trader.
3. Trade with a currency pair with low spread. To see the current spread, you may right click the market watch and select spread. Do not trade a currecy pair with a very high spread! It will take long for your Unrealize loss to become a profit. You may trade a currency pair with spread from 0 to 16 pips to maximize your profit or you can open an ECN account to trade currency with 0 spread.
AND THAT'S ALL FOLKS, HAPPY TRADING! AND TAYOR!
Don't know how to trade Forex? Learn here!
Looking for a reliable Forex Broker? Click here!